Sateesh Nagpal, a theater artiste, says: "A sense of déjà vu is what I had when I joined kalari. When I was a toddler, my parents took me through the initial stages of walking by holding my hand, often correcting me and steering me away from obstacles. But I was disobedient and stubborn. I think I lost my basic character then. But now, being with the
gurukkal
and through his training, my life has changed. It has become more disciplined and systematic."
Jamon, as senior student says: "I had a very careless, rude and stubborn character in my childhood, But after joining Kalari under the surveillance of Muraleedharan Gurukkal my self-confidence, patience and humility have increased tremendously. More than that, I remained healthy throughout my training."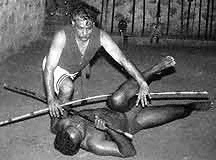 THE MARTIAL ART OF DOCTORING
But perhaps the USP of kalarippayat is the
uzhichil
(massage) with specially prepared medicated oil. The
gurukkal
, or a skilled masseur, use hands and feet (with the latter suspended by rope) in varied degrees of force and weight till the body is literally squeezed and pummeled into amazing flexibility and suppleness. The background strain to all this wrestling, as it were, of the
Saptadhabhu
(the seven tissues of the human body: plasma, blood, muscle, fat, bone, bone marrow and semen) is the song of the
charkas
, the primum mobile of all
yoga
. In conjunction is the stimulation of the
nadisoothra
(
ayurvedic
acupressure), the
marmam
(the body's vital parts), pressure points of the sole (foot reflexology) and the known five human senses.
Kalari massage is also trifurcated.
Sukha thirummu
(massaging for overhauling the body and for rejuvenation) is the hands-down favorite, but stress is also laid on
Kacha thirummu
(for physical endurance) and
Reksha thirummu
(for holistic healing). Administered to a fit anatomy, the full course of kalari massage makes it as pliable as pure copper, allowing it to virtually slither from one contortion to another—the animal mimickry, from snake to elephant to cock-of-the walk, that personify kalarippayat.
After you rub your enemy's nose into the hallowed earth, the afterthought of compassion that lies at the heart of kalarippayat makes it incumbent upon you to repair the considerable damage. The system of post-trauma treatment is called kalari
marma
chikitsa
treatment through vital nerve endings. Prototypal of ayurveda, this system enabled sages and yogis of ancient India to heal by poking and prodding the centers through which the
pranavayu
(life force) passes into the human body. According to ancient Sanskrit treatises on medical treatment, and their postmodern Tamil descendants, there are 108 "vital points" in the human body, of which kalari is interested in 64.
Says Muraleedhran Gurukkal: "The nerve centers are so sensitive that any hit or even jab on the spot will usually kill and almost certainly permanently disable the entire body."
In peacetime, like traditional ayurveds, the kalari
gurukkal
painstakingly attends to each patient.
Gurukkals
are capable of diagnosing problems using
nadi vigyan
, diagnosis by feeling the pulse.